Vaccination Drive: The Ways to Reduce Sufferings and Rejuvenate Bangladesh Economy
By
Background
Since the first lockdown announced in late March 2020, Bangladesh has been going through periods of corona virus waves, national and local level lockdowns of various intensities, high levels of infections among the testing population, and varying degrees of death rates ranging between teens to more than 200s per day. The economic cost of the lockdown has been significant—economic growth slowing down to 3.51%, its lowest level in the last two decades in FY20. Private investment has collapsed, and the growth outlook remains very subdues in the absence of a clear way out of the ongoing pandemic. The number of people who lost their jobs in micro and small businesses were in the millions, and based on various surveys conducted by a number of research organizations 15-20 million additional people have fallen below the poverty lines.
Efforts to popularize mask wearing and maintaining social distancing have largely failed and the government has been using periodic lockdowns of various durations to contain the spread of infection. The pandemic is a global phenomenon, and new variants are emerging regularly undermining the global efforts to contain the spread and suffering. At the same time, a number of effective vaccines have been developed at a record pace by pharmaceutical companies in the USA, Europe and China. The divide between the rich and the poor nations in terms of vaccination of their population has widened sharply due to limited access to vaccines and capacity to pay for the vaccines. Multilateral organizations like the World Bank, IMF, Asian Development Bank and other regional development organizations are coming forward to support the developing countries with financial supports to expand hospital capacity for Covid-19 patients and to pay for the vaccination programs.
Covid-19 second wave: Global perspective
Covid-19 deaths and cases are on the rise again globally in a dispiriting setback that is triggering another round of restrictions and dampening hopes for a return to normal life. According to the World Health Organization (WHO), the total global caseload stood at 198,778,175 while 4,234,559 fatalities have been reported as of 3rd August 2021. 
The USA, which is the worst hit country, both by number of deaths and infection, has confirmed 608,288 deaths with a 31.56% rise in weekly fatalities on the last week of July. Brazil, currently having the second highest death-toll and third largest in terms of cases, recorded additional 7,120 deaths on the last week of July, taking the total to 556,834. India, the other heavy hit country to make the top 3, too witnessed a 6.8% rise in cases in the last week of July. 
What has been particularly alarming is the harp rise of cases in countries which had particularly fared well since the advent of the pandemic in early 2020. In the last two months (June and July), Indonesia recorded 1,341,239 new cases with an average weekly rise of 30%. This two-month infection number makes up roughly 38% of the overall confirmed cases in Indonesia since the start of the pandemic. Malaysia recorded an average weekly rise in cases by 28% in the month of July, taking its average death toll to much higher levels than in the period prior to April 2021. Vietnam, a country which used to be considered as the most successful in tackling the Covid-19, saw an addition of 130,750 cases in the month of July, which makes up 79% of its total cases so far. 
Bangladesh Scenario
Similarly, Bangladesh too has been shattering records in terms of infections and fatalities every other day now, with a daily average of 200 plus deaths in the month of July. The rapid rise in infections and fatalities in July is enough to set off alarm bells, indicating that the ongoing second wave is far from slowing down in Bangladesh. The persistent rise in cases, despite the hardened movement restrictions, has been a particular worry for the policymakers, who have decided to further increase the lockdown beyond August 5th, for a further 5 days. Bangladesh recorded the highest number of deaths, 258, on July 27th despite the lockdown, with the record highest 16,230 number of persons testing positive in the following day.
According to WHO, as of 3rd August, the total number of confirmed cases based on test results have increased to 1.3 million, along with 21,397 deaths.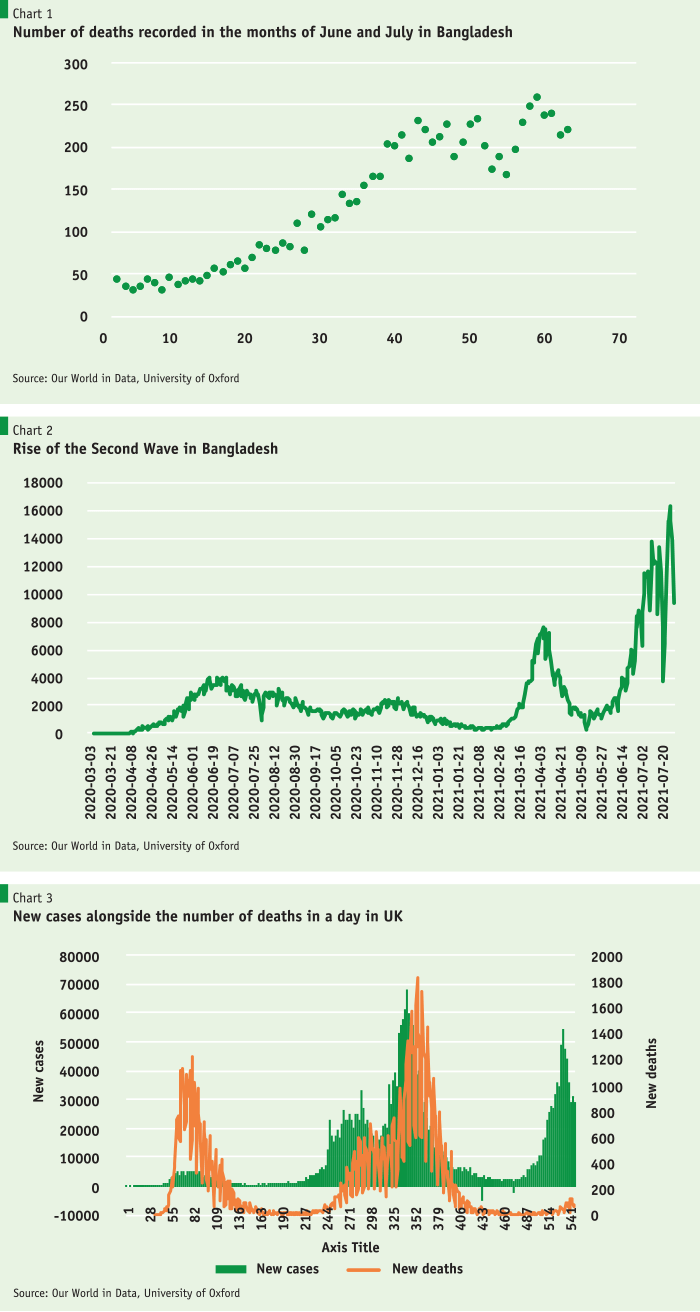 Lessons from the UK: Vaccine as a solution

 
UK is one of the most effected countries, with 6,178,632 confirmed cases– 6th highest in the world. However, new daily cases, which in the current wave peaked at 54,747 on July 17, have fallen to 25,782 on July 31st. The number of new daily Covid-19 cases has fallen each day for the last six days and with the large number of the population vaccinated, the country now looks forward to reopening and get the economy firing back again. Riding on the vaccination drive, the end of Covid-19 pandemic in Britain may be near with experts hoping that to happen by October (Reuters).
British data show that, despite a spike in cases in early July due to Euro 2020 football championships, there had not been a large increase in deaths, which actually fell to 14 on 26th July.  With an average of 34,391 new daily cases in the month of July, UK on average saw 50 deaths per day in the month of July. This denotes a deaths to cases ratio of 0.14%, a fatality rate much lower than the world average. Bangladesh on the other hand, with 10,846 new daily cases on average, recorded 200 deaths per day in the month of July, which was 1.84% of the total cases recorded in that month. 
Much of the lower deaths in the UK can be attributed to the effectiveness of vaccines, which paid massive dividends in reducing the risk of hospitalization and deaths.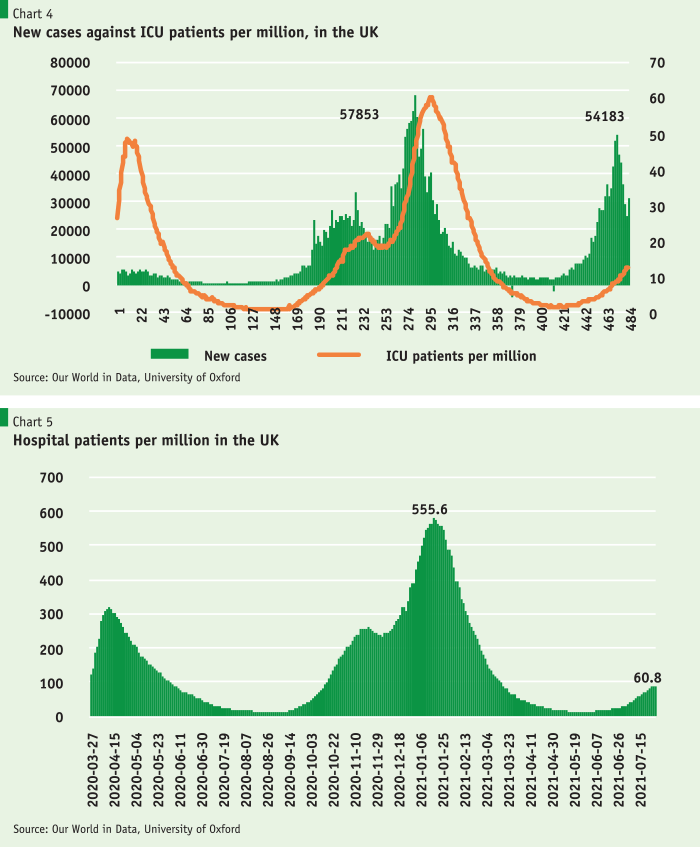 Much of the lower deaths in the UK can be attributed to the effectiveness of vaccines, which paid massive dividends in reducing the risk of hospitalization and deaths.  The average number of ICU patients in the UK since early July stood at 561, which is a much lower number than the daily average of 2250 ICU patients during the first wave in UK (November 2020 to February 2021). The number of ICU patents per million reached a record high of 60 during that time, in comparison to 12 recorded at end-July, although the daily new cases were of similar levels as shown in the graph below. Total hospital patients per million also reduced significantly over the two waves, from 555 patients per million to a mere 60 per million in the latest wave. This gives clear indication of how effective vaccines have been in countering fatalities and health hazard brought about by Covid-19. UK have so far managed to fully vaccinate 58 percent of its population, with 70 percent having received at least one dose.
Vaccination Drive Worldwide

 
Similar to UK, other countries around the world too have started undertaking mass vaccination campaigns, some leading the charge better than others. Malta, Iceland, Chile, Uruguay and the UAE lead in fully vaccinating most of its population. The UAE, a country reliant on global tourism, have taken active steps in providing safety to its people by fully vaccinating 80% of its population with 173 doses administered per 100 people. Bahrain, Bhutan, Mongolia, Qatar and Singapore are the other smaller Asian countries that performed well with over 60 percent of their population already fully vaccinated.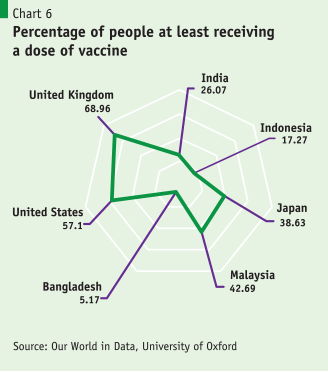 Malta, Belgium, Spain, Portugal and Denmark have overtaken UK in terms of proportion of people fully inoculated, after their rollout initiatives took off and while Britain's impressive campaign slumped, as bound to happen as they now focus on harder to reach and more vaccine-hesitant groups. UK's numbers leaned towards higher second doses, after an impressive 
Canada has fared much better than its neighbors in providing protection against the deadly virus and thus placed 13th in terms of doses administered per 100 people in the New York Times published ranking. The government has managed to fully vaccinate 60 percent of the population, with 77 percent of the population having at least one dose. In comparison, despite early start and full access to locally manufactured vaccines, USA is now ranked 29th with 105 doses administered per 100 people, and fully vaccinating 50% of its population. Resistance to vaccination by a large segment of the population has contributed to this slowdown in the USA. India and Brazil, the other two worst hit countries in terms of fatalities and cases, have administered 35 and 68 doses per 100 people, respectively. 
Bangladesh Perspective
Vaccination as we know is quintessential in the fight against coronavirus. With daily cases and deaths refusing to decline despite lockdowns and other strategies imposed, proper vaccination is the only way forward. We have already seen UK's success in bringing down fatalities with an effective vaccination strategy, despite having high level of daily confirmed cases. This clearly points out to increased immunity against the virus, as only 14 deaths were recorded in the month of July per 10,000 confirmed cases. Bangladesh on the other hand, as the data suggests, recorded 184 deaths out of 10,000 confirmed cases–a much higher fatality rate. The UK experience is of particular relevance to Bangladesh as the countries' hospitals are already working at more than full capacity and since health service delivery system is heavily constrained. With proper vaccination, it is expected that Bangladesh too can bring down the number of ICU patients and hospital admissions down, as seen in UK over the past few months, even if the infection levels are high. The same phenomena can be noticed in the USA too, as much greater share of infected are recovering -which has brought the death rate down- that too without any serious need for institutional care. 
Vaccination as we know is quintessential in the fight against coronavirus. With daily cases and deaths refusing to decline despite lockdowns and other strategies imposed, proper vaccination is the only way forward.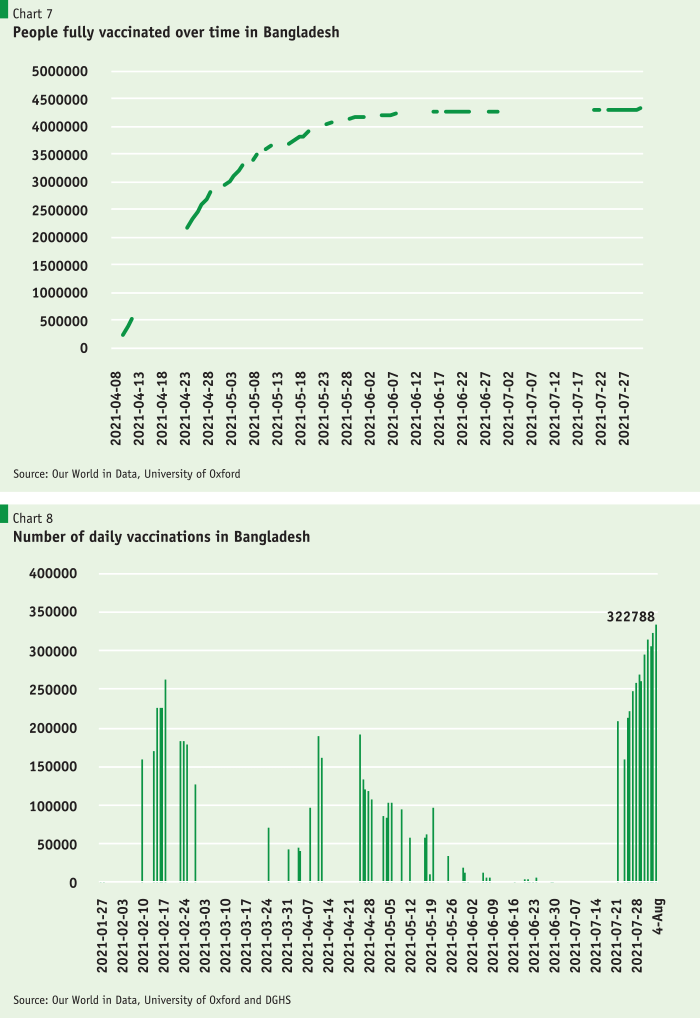 Since the nationwide inoculation campaign began in February 2021, Bangladesh has managed to administer more than 13 million shots using the Indian manufactured Astra Zeneca vaccines. Of them, more than 9.1 million people took their first shots while around 4.3 million citizens have completed the two doses. The campaign has so far been marred by shortages in supplies, being highly reliant on India initially. On April 25, 2021, the government was forced to suspend the first dose of the vaccine campaign, and later in the first week of May, postponed registration for vaccination. Finally, Bangladesh resumed the process in May, after government secured procurement of millions of vials, with more expected to arrive in the coming months.
By global standards, Bangladesh has fared poorly so far, having just administered 8.5 doses per 100 people which is much lower than the world average of 55. Bangladesh ranks 129th globally out of 185, despite being 26th worst hit country in terms of total number of cases. 
Covering just 5.8 percent of its population with at least one dose, only 2.4 percent of the Bangladesh population have been fully vaccinated so far. Quite astonishingly, war-torn Libya registered similar figures and have managed to vaccinate 8.1 percent of their population. West Bank & Gaza, recently coming out of serious atrocity, too have managed to fully vaccinate 8.9 percent of their population and administered 22 doses per 100 people. With similar figures, Nepal, alongside Zimbabwe, Pakistan, Philippines, and Namibia, fared better than Bangladesh.
Recognizing the urgency, Bangladesh looks set to put wind on its sail and revive its mass vaccination campaign, with a special drive to inoculate 10 million people in 6 days. The ambitious drive it to be followed by a bold plan to vaccinate one crore people in a month until the end of year. Such an attempt is consistent with the IMF recommendation for all countries to vaccinate 40% of their population by the end of 2021, a threshold considered important by the IMF for countries to move towards a path of economic recovery, as seen in the case of UK. 
Challenges for Bangladesh

 
Everything depends on vaccine availability. Bangladesh was well ahead of many Asian countries in rolling out its vaccination program. The masterplan devised to vaccinate 80% of the population in two years primarily depending on large quantities of AstraZeneca vaccine supplies from India and from the COVAX facility under the WHO. However, Bangladesh's vaccination plan has already suffered a major setback with India putting a complete export ban on vaccines produced in that country due to the blazing Delta variety spreading across India with heavy death tolls and fastest spread over a 3-month period in early 2021. India had been supplying vaccines to its immediate neighbors like Bangladesh, Sri Lanka and Nepal, and to the global Covax scheme for poorer countries until it halted exports in April to meet local demand in the face of surging cases. The Serum Institute of India (SII) had earlier confirmed that their priority remained on their own needs, and that they might not export again until the end of 2021. Bangladesh since then had to rely on other sources and resumed its vaccination program when China's Sinopharm vaccines were made available, which was followed by the arrival of a limited number of Moderna and Pfizer vaccines under the COVAX program. 
Bangladesh has to secure around 40 million doses of vaccine by end of the year to implement the vaccination plan. It has been officially announced that the health directorate now has 5.6 million doses of Sinopharm vaccine, 4.7 million doses of Moderna vaccine, 50 thousand doses of Pfizer and 1.3 million doses of Oxford-AstraZeneca vaccine. With 20 million more vaccines expected to arrive in August 2021, the total tally is expected to reach 31.6 million, which should be enough to fully vaccinate 15.8 million people. However, to cover 40% of the population by end of year, a further 36 million people will need to be vaccinated which will require additional 72 million jabs. Bangladesh will have to ensure the remaining 40.3 million jabs of vaccines arrive timely and at regular intervals to keep up with the vaccination plan and timeline for the remainder of this year to achieve the 40% target. This will be a challenge, because India, as confirmed by Serum Institute of India (SII), is unlikely to resume export of vaccines to Bangladesh and other countries, including the Covax initiative, until its massive home vaccination program is largely over. China is also facing rising cases and in the midst of vaccinating its own population (now crossed more than 40% of population) which are expected to at least hinder export quantities to other countries, even if it is not expected to stop completely. 
If the plan is to inoculate 80 percent of the population by December 2022, on average, 13.764 million doses need to be administered every month, which is roughly equivalent to 458,800 jabs per day. However, if the government plans to fully vaccinate the remaining 117 million people to realize the 80% goal by June 2022, over 0.7 million jabs will be needed every day. However, the lack of capacity of the health sector and administrative constraints overshadow a successful implementation of any such plans. The health ministry recently announced an over ambitious plan to provide 13.4 million jabs to people within 6 days, which would entail 2.23 million jabs per day!  This is an insurmountable challenge, as our neighbor India with massive mobilization and much larger population has only managed to vaccinate on average 4.5 million people per day. The target is further in question, as the Director General of Health Services has confirmed that 50% of the health assistant positions are currently vacant. These are the staff who will be administering the Covid-19 vaccines in the six-day drive and beyond. So far, the highest jabs achieved by Bangladesh in a day has been a little over 0.323 million. Average inoculation over the last 10 days has been 266,498 doses much below the amount required.  
Way Forward
The following issues/measures may be considered by the Bangladesh Government to contain speedily the recurrence of corona virus waves, limit the associated hospitalization and loss of lives, and reduce the high cost to the economy in terms of loss of output, declining investment, loss of jobs, and increased poverty. The road to economic recovery squarely lies in successful execution of the vaccination program, and supplementing that with social and community mobilizations for encouraging mask wearing and enforcement of social distancing at office and shops. Sustaining the momentum with vaccination will require:  
(i) Immediately placing orders to achieve sufficient vaccine coverage: Bangladesh, having a limited vaccine coverage for the remaining eligible population, will have to secure more than 100 million doses at minimum to at least fully vaccinate half of them, or cover all eligible persons once with a jab by early 2022. Diplomatic efforts should be made to ensure that the projected global production capacity will materialize and be shipped without delay—supported by international efforts to eliminate export restrictions on all critical inputs. Existing multilateral pandemic facilities should be fully utilized to ensure that financing is not an obstacle for these important steps.
(ii) Vaccine hesitancy is a growing concern. Vaccine uptake appears to slow considerably as early as 40%–60% of population coverage. Overcoming the vaccine hesitancy will be important to secure a durable exit from the pandemic. From this perspective, the benefits of uptake are so large for countries that a zero price should be implemented for all people to maximize uptake and avoid within-country inequality in vaccine access and uptake. Domestic political, social, religious, and community level mobilizations will be needed to encourage people to vaccinate in masses.   
(iii) First Doses First: An option to consider is the "first doses first" approach that prioritizes first doses by delaying the second shot to 12 weeks or more. In the context of countries facing significant shortage of vaccine supplies, it would be useful to evaluate longer delays for the second shot (say 24 weeks) for the subset of highly effective vaccines, as this could substantially increase vaccination coverage in the immediate future when supply constraints are most binding. For instance, in clinical studies, Novavax, has an efficacy of about 83 percent as early as 14 days after the first shot, and Moderna and Pfizer/BioNTech have comparable efficacy after two weeks of the first shot. AstraZeneca also appears to offer protection of 70 percent or more after the first dose, and the UK government policy of stretching the interval between the two shots of the AstraZeneca vaccine appears to have worked (Lacobucci 2021).
(iv) Fractional Dosing: Another dosing strategy to consider is the "fractional dosing" approach under which half-doses are administered (or a full dose followed by a half-dose). This strategy has been used effectively in previous epidemics when vaccine supplies were scarce (Guerin and others 2008). The relative benefit of these first two approaches in terms of relaxing the supply constraint will depend on where the bottlenecks in the supply chain currently exist (for example, glass vials vs. raw materials).
(v) Single dose for previously infected: A third option worth considering is a "single dose for previously infected." A recent study found that the first dose of some vaccines combined with prior infections is as or more effective than two doses for those with no prior infections (Anichini and others 2021). Furthermore, the second dose may not be beneficial or be associated with side effects for those with prior infections. Thus, for countries like India and Bangladesh with high seroprevalence due to prior undetected infections, population level screening for antibodies can significantly reduce vaccine needs under this approach.
(vi) Additional efforts and financing to encourage voluntary licensing and cross-border transfer of technology: There is scope to produce vaccines in Bangladesh through voluntary licensing, and collaborative efforts encouraging expansion of regional production capacity. In the near term, focus should be on securing the licensing agreement with Russia and move for production as early as possible (for example, AstraZeneca licensing deals with India, China and Brazil). These efforts are important for vaccine equity as crowding out of vaccine supplies has tended to be at the expense of poor nations. These efforts can proceed in parallel to the ongoing WTO negotiations on the sharing of intellectual property for COVID-19 vaccines, so that all production facilities can be utilized for global mass production.
 While vaccination program must continue and gain further momentum, Bangladesh must also take measures to contain the spread of infection and flatten the curve to prevent surge in hospitalization and use of ICUs. The large number of households who were not poor but became "New Poor" due to loss of jobs and their micro and small enterprises would also need support from the government. Accordingly, the following measures are proposed: 
(i) Mandatory mask use in public places and at every industry and office buildings with proper enforcement will go a long way toward containing infection. The government needs to mobilize the communities to enforce mask use in every neighborhood, villages, and wards of every city. Young volunteers guided by community elders and religious leaders should be used in enforcing the mask mandate and they should also provide free washable cloth masks to the poor households. The current dependence on civil administration has failed to deliver and we must thing alternative in the form of community level engagements.
(ii) Social distancing and other health protocols should also be enforced at all offices, stores, and factories. The experience of RMG factories is a good example to follow. The RMG factories have been operating during lockdown periods following the BGMEA guidelines and infection rates have been much lower among the workers due to adherence to health protocols, despite the sector being a very labor-intensive industry.  
(iii) It is essential to expand social protection measures—including in-kind and cash transfers to protect the "new poor" households and support for viable micro and small enterprises through grants and loans—until the virus is brought under control. The in-kind food support will be particularly helpful during the lockdown period and cash transfer programs for the new poor should help these large number of families in overcoming this difficult period. Studies undertaken by PRI to address the Last Mile Challenges may be considered in this respect (Policy Insight Issue 9) Adequate and broad-based coverage will enable national authorities to maintain the necessary public health measures while mitigating the social and economic burden of such measures.