Unleashing the Potential :Skill Development Imperative for Attaining Bangladesh's Vision 2041
By
A. Development Context
Bangladesh has made remarkable progress in its development journey, transitioning from a struggling nation to a recognised success story. With sustained economic growth and prudent management, the country has become one of the world's fastest-growing economies. Despite challenges posed by the COVID-19 pandemic, Bangladesh has demonstrated resilience, rebounding strongly and achieving a growth rate of 7.2% in FY2022. The government's effective macroeconomic management has played a significant role in this growth. Bangladesh is set to climb further in the global economic ranking and poised to become the 20th largest economy by 2037.
To propel its development trajectory, Bangladesh has embraced Vision 2041, which seeks to eradicate poverty and achieve upper-middle-income and high-income country status by 2031 and 2041, respectively. The Perspective Plan of Bangladesh 2021-2041 (PP2041) outlines the strategic roadmap for achieving these goals. It sets ambitious targets for GDP growth, poverty reduction, and the eradication of extreme poverty. The plan emphasises the need for inclusive growth, welfare of the poor and vulnerable, productivity enhancement, and the transition to an innovation-driven knowledge economy.
Bangladesh is undergoing a transformative phase with rapid changes expected in its economy. In the next two decades, the country will face the challenges posed by an evolving global economic landscape characterised by technological advancements, global value chains, and new ways of doing business. Additionally, Bangladesh must adjust to its non-LDC status and the loss of associated market protections. The government also faces the task of harnessing the demographic transition to drive development, amidst the potential job losses caused by automation. Successfully leveraging technology and human capital to create productive employment will be crucial for Bangladesh's future growth.
B. The Imperative to Transform into a Knowledge-based Smart Economy, with Increased Attention to Skills Development
Bangladesh's aspiration to become a high-income country by 2041 is highly dependent on its ability to adapt to technological advancements and successful transformation of the economy into knowledge-based, smart economy.  The aspiration to move to enhanced prosperity status demands deeper and wider reform measures to deal with industrial competitiveness in a challenging global environment and beckoning emerging technologies. To remain competitive in the global market, Bangladesh needs to upgrade its workforce and build a knowledge-based economy. This requires investing in technological infrastructure, education, and training to develop the necessary technical skills to work with advanced technologies, including artificial intelligence and machine learning, areas Bangladesh currently lags in.
Bangladesh's aspiration to become a high-income country by 2041 is highly dependent on its ability to adapt to technological advancements and successful transformation of the economy into knowledge-based, smart economy.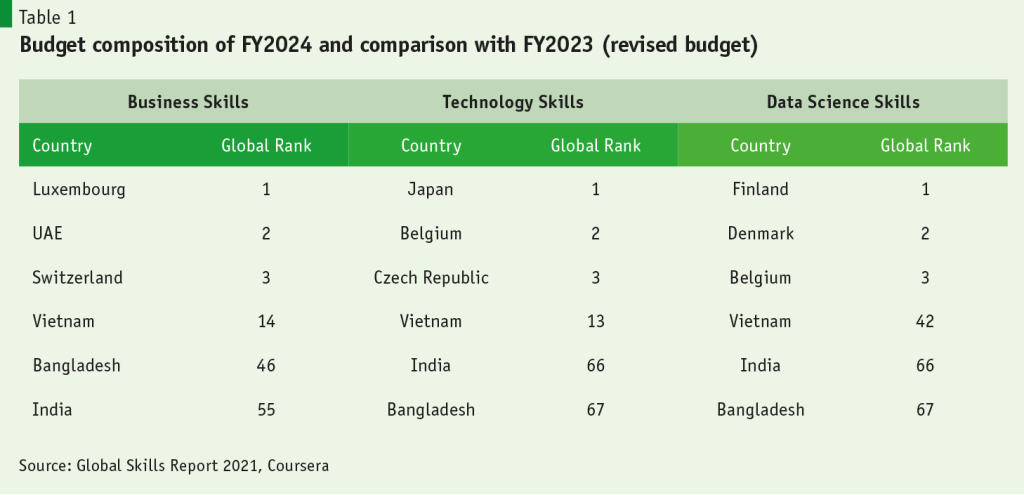 Critical need to enhance productivity in manufacturing and maintain global competitiveness The manufacturing exports have been a significant driver of Bangladesh's economic growth, with an average annual growth of approximately 10.3% since 2001, resulting in a rise from USD 6 billion to USD 52 billion over that period. While the ready-made garments (RMG) sector plays a crucial role, accounting for 43.1% of the manufacturing value, other industries such as textiles, food products, and leather works also contribute to this growth. However, the majority of manufacturing in Bangladesh remains low-tech and low-skilled, leading to low labor productivity compared to international standards. The emergence of modern technologies and the 4th Industrial Revolution (4IR) has transformed global production, driven by automation, robotics, and artificial intelligence. In order to maintain competitiveness and achieve Vision 2041, Bangladesh's manufacturing sector needs to embrace technological sophistication and enhance productivity to keep up with global comparators benefiting from the digital economy and widespread technology adoption across sectors.
Unlocking demographic dividend through skills development Bangladesh is experiencing a demographic transition with a rising working-age population. The country's median age is relatively young at 27.6, significantly lower than other Asian countries like China, Sri Lanka, Vietnam, and India. However, despite the advantage of having a young population, the country faces challenges due to a prevalence of low-skilled labor. The high proportion of informal employment (85% of total employment) raises concerns about job quality, vulnerability, and the scarcity of formal work opportunities. Youth unemployment rates are also alarmingly high, leading to social problems and suggesting untapped potential among educated youth. Additionally, a growing number of youths are not engaged in education, employment, or training (NEET), further hindering Bangladesh's ability to benefit from its demographic dividend. The situation calls for urgent skills development to enhance the employability and productivity of the labor force. Improving these aspects is crucial for Bangladesh's economy to successfully transition to high-value added production and take advantage of opportunities in the rapidly evolving technological landscape. 
Urgent transformation of RMG sector necessary for sustainable growth and job creation The employment generation potential of Bangladesh's RMG sector has also reached its limit, showing minimal prospects for substantial job creation in traditional production lines. Despite recent growth in RMG exports, employment levels have remained stagnant at approximately 4 million since fiscal year 2010. Both the textile and RMG sectors have experienced a deceleration in annual employment growth, averaging just 1.5%, while the RMG sector specifically witnessed a mere 1.1% increase in jobs between 2015 and 2020. The sector's heavy reliance on a limited range of low-value added products is resulting in diminishing returns. In order to achieve sustainable long-term growth and facilitate rapid job creation, a transformative shift within the RMG sector is essential to effectively compete and thrive amidst intensifying global competition and evolving demand patterns.
It is imperative to move up the value chain into more complex, high-tech-high-skilled manufacturing Bangladesh has historically benefited from a cost advantage due to low wages. However, this advantage is diminishing as wages rise, logistics face pressure, and other countries like Ethiopia, Myanmar, and Cambodia emerge as low-wage destinations. Additionally, countries like Vietnam and Thailand have achieved significant cost reductions through efficient automation, intensifying global competition. Furthermore, advanced economies' changing demand patterns, shifting towards sustainable, high-quality, and durable products at a premium, pose significant competitive challenges for Bangladeshi producers. Moreover, once Bangladesh graduates from the least-developed country status in 2024, it will lose duty-free quota-free access to advanced economies' markets. To sustain its current manufacturing growth rate, it is crucial for Bangladesh to swiftly ascend the value chain, engaging in more intricate, high-tech, and high-skilled manufacturing that aligns with global demand.
Lack of skilled workers hinders the potential of key sectors The manufacturing sector in Bangladesh is undergoing significant changes, requiring a shift in the required skills of the workforce. However, there are shortcomings in the quality of graduates, lacking the necessary cognitive, creative, analytical, and technical skills demanded by the job market. The scarcity of manufacturing workers with engineering or applied science degrees further emphasises the need for improvement. Effective management is also crucial for high-tech manufacturing, yet a large portion of managers in Bangladesh are untrained. The low percentage of trained managerial workers and the reliance on hiring foreign nationals highlight the need to enhance the skills of the manufacturing sector's workforce. The Perspective Plan of Bangladesh 2021-2041 (PP2041) acknowledges this gap and aims to improve the supply of skilled managerial workers through academia. The 8FYP and PP2041 have shown the government's commitment to addressing these challenges and bridging the skill gap in the manufacturing sector.
GoB skills development initiatives
The Government of Bangladesh has implemented various policies and programs to address disparities and enhance education and skills development. These include the National Education Policy (2010) and the National Skill Development Policy (NSDP, 2011), as well as initiatives like the Technical and Vocational Education and Training (TVET) Reform Project (2008-15), Skills and Training Enhancement Program (2010), and Skills for Employment Investment Program (2014). These initiatives aim to improve the quality of education and training to meet the evolving demands of the job market. Collaboration with industry organisations such as BASIS, BTMA, BGMEA, and AEOSIB has helped identify and address skill gaps effectively, leading to improved workforce skills and employability in various sectors. 
One notable program, the Skills for Employment Investment Program (SEIP), has trained over 2 million individuals in sectors like ICT, RMG, construction, hospitality, and healthcare since its establishment in 2014. By involving employers in the design and implementation of training programs, SEIP ensures that the skills taught are aligned with industry needs, increasing the graduates' employability. The program also provides job placement support and entrepreneurship training, resulting in meaningful employment opportunities and sustainable livelihoods for its graduates.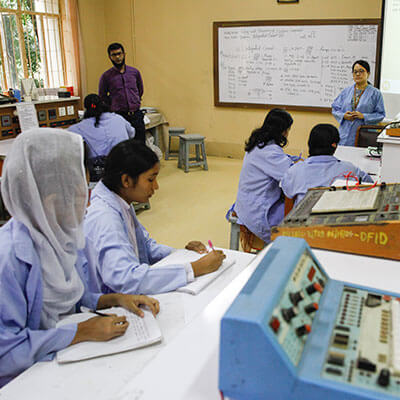 The government's human development approach also focuses on equity. Efforts such as the Education for All policy, stipends for girls and the needy, and non-formal education initiatives have reduced gender disparities and expanded access to primary education. Additionally, programs like NSDP 2011, TVET reform project 2008-15, and SEIP have advanced the skills development agenda, responding to industry requirements.
C. Key Challenges and Lessons Learned
Persistent Skills Gap Despite efforts from the government, there are persistent skill gaps particularly at higher levels and managerial positions, due to the rapid changes in market demands and technology. Consequently, an increasing number of companies have resorted to recruiting skilled professionals from overseas. Concerns also exist regarding the ability of universities and technical colleges in Bangladesh to meet the expanding and higher quality requirements of industries, particularly in the manufacturing sector. 
Systemic issues in training design and delivery The implementation of NSDP 2011 led to a significant increase in student enrollment in the TVET sector, rising from 1% in 2009 to 15.2% in 2018. While this achievement is noteworthy, there are persistent issues that hinder Bangladesh's progress in this domain. The skills system requires substantial improvement, particularly in the areas of (a) updating the curriculum to align with emerging industry needs, (b) incorporating relevant and improved technology, (c) ensuring high-quality training and competent trainers, and (d) providing adequate practical experience through industry internships. Addressing these shortcomings is crucial to enhancing the effectiveness and relevance of the skills system in meeting the demands of the evolving job market.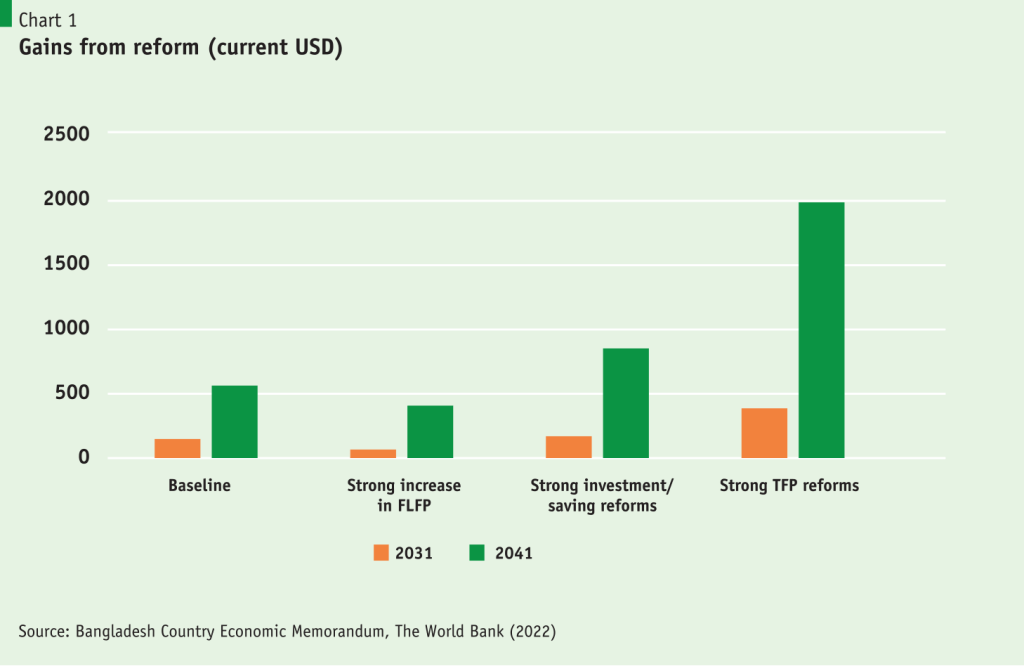 Equity Challenges in access to training Inequity is another major challenge and the government acknowledges this as an unfinished agenda in the 8FYP. Disparities in education attendance remain, particularly at secondary and tertiary levels, with a significant gender gap in universities. Quality concerns exist, with a large number of children lacking foundational reading and numeracy skills. Inequities in access to training and skill development programs are also evident, requiring targeted measures to expand access, establish rural training centers, and support marginalised groups.
Coordination among different stakeholders The implementation of SEIP has also faced challenges related to coordination among different stakeholders. To overcome these hurdles, a clear coordination mechanism needs to be established, and ownership and accountability should be incentivised. Additionally, robust monitoring and evaluation frameworks are crucial for assessing the program's effectiveness and making necessary improvements. Moving forward, continued efforts to enhance coordination, incentivise ownership, and strengthen monitoring and evaluation processes will be instrumental in sustaining the program's impact and contributing to the country's socio-economic development.
D. Conclusion and Way Forward
Bangladesh confronts the pressing task of generating adequate employment opportunities for its expanding labor force, as millions of individuals join the labor market annually. The substantial rate of NEET individuals raises concerns and poses a hindrance to economic growth. The prevalence of informal employment further raises apprehensions regarding job quality and skills. To achieve the targets set out in PP41, which include high per-capita income and poverty reduction, it is crucial to focus on two key factors: providing viable employment opportunities and improving access to quality education and training programs. Enhancing the workforce and furnishing industry-specific expertise assume paramount importance for fostering economic development. 
Human capital development is essential for Bangladesh's ambitious economic growth targets. To achieve its goal of becoming an upper middle-income country by 2031 and a high-income country by 2041, the country must accelerate its total factor productivity (TFP) growth. Research shows that Bangladesh's TFP, which grew at an average rate of 0.3 between 2005 and 2016, needs to reach an average of 2.3 during 2021–2031 and 3.6 during 2032–2041 for achieving the high aspirations of Vision 2041. Strengthening institutions, closing infrastructure gaps, expanding access to education and training for all, and ensuring effective governance will create an environment conducive to human capital development and overall productivity enhancement. 
Strengthening institutions, closing infrastructure gaps, expanding access to education and training for all, and ensuring effective governance will create an environment conducive to human capital development and overall productivity enhancement.
The importance of total factor productivity (TFP) in Bangladesh's path towards becoming a high-income country is evident in the World Bank's Country Economic Memorandum. Analysis reveals that placing emphasis on TFP yields considerably greater benefits compared to other reforms like investment/savings, and business-as-usual. In fact, the potential gains from focusing on TFP can be as high as 2 times and 4 times greater, respectively. By prioritising education, skills training and healthcare, Bangladesh can effectively enhance the knowledge and skills of its workforce, resulting in improved productivity across different sectors. This strategic approach to human capital development can significantly contribute to Bangladesh's overall economic growth and progress towards its high-income country aspirations.
The gains from reforms can be further amplified by implementing them simultaneously, as indicated by Chart 1. By directing targeted efforts towards human capital development and implementing supportive policies, Bangladesh can unleash its economic potential, foster sustainable growth, and uplift the living standards of its people. Several areas require attention to maximise the impact of skilling initiatives and Bangladesh's human development strategy. They include ensuring private participation in the design and delivery of skilling initiatives, promoting women's participation, upskilling migrant workers, integrating technology into training programs, and establishing clear coordination mechanism. Through implementing the measures, Bangladesh can effectively work towards its long-term development goals while enhancing the overall effectiveness of its initiative.
Public-Private Partnerships for improved skilling delivery Public-private partnerships are vital for improving skilling and training services. The 8FYP aims to enhance collaboration between industry and academia, updating curricula and preparing students for relevant jobs. Close collaboration between the government, employers, and training providers ensures alignment with labor market needs, improving training quality and job placements. Engaging with private sector organisations and industry associations helps develop industry-aligned programs and apprenticeships. Encouraging investment and collaboration between the public and private sectors is essential for quality, relevance, and accessibility of skilling services, supporting Bangladesh's long-term economic growth.
Increased stakeholder collaboration and involving employers in the design and delivery of training programs Collaborating with stakeholders and involving employers in training programs can lead to more relevant and effective training, better employment opportunities, improved quality assurance, and program sustainability. Employers' input ensures that the skills taught align with job market demands. Involving employers in curriculum development addresses concerns about training quality, and their ongoing support increases graduates' employability. Engaging employers also fosters program sustainability as they may invest in its continuation.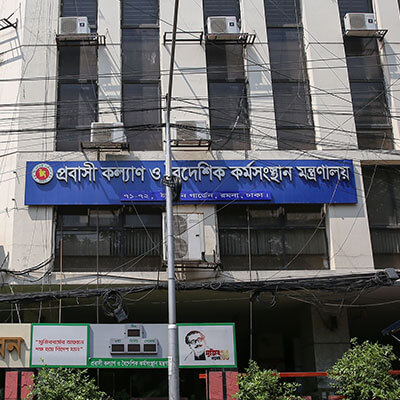 Creating a facilitative environment for R&D Bangladesh's R&D system requires improvement to support its manufacturing sector's transition. The country ranks low in R&D and knowledge and technology, with limited government and private expenditure. To ensure sustained growth, enhancing research capacity in tertiary education, developing climate-resilient business models, and promoting green technologies through R&D are crucial. Facilitating university-industry collaborations and international partnerships can elevate skills, knowledge, and institutional capacity. Collaboration with developed countries offers access to advanced technology and skills transfer, as seen in the ICT sector. Creating a supportive environment for cross-country cooperation and research collaboration is essential for a knowledge-based economy.
Increasing women participation in skilling initiatives Promoting equity and addressing barriers faced by women and marginalised groups is crucial in ensuring their access to education and employment opportunities. These groups often encounter social, cultural, and economic obstacles that limit their advancement in the labor market, resulting in gender and income disparities. The government has emphasised the importance of eliminating gender gaps and promoting equity in tertiary education and vocational training, including the establishment of women's universities and need-based scholarships. Efforts to reduce gender gaps in skills-based training have also been stressed. It will be important to ensure prioritisation, as it is vital for Bangladesh's long-term development. 
Enhanced attention to migrant worker skills The government acknowledges the importance of improving the skills of migrant workers, as highlighted in the PP2041 and the 8FYP. Although Bangladesh receives significant remittances from migrant workers, most of them are low-skilled, resulting in relatively low per capita remittances. The 8FYP and NSDP 2020 recognise the need to skill and upskill these workers for higher-paying jobs. Providing access to education and training services is crucial in creating opportunities for them. Upgrading the skills of the large number of migrant workers can lead to better employment outcomes, increased remittances, and ultimately contribute to Bangladesh's foreign exchange reserves and economic growth.
Integration of technology in training and skilling initiatives Many firms in the manufacturing and service sectors face difficulties in adopting advanced technologies due to a lack of skills in utilising and servicing them. The textile industry, in particular, is eager to embrace Industry 4.0 technologies but faces challenges due to inadequate skills and infrastructure. Small and medium businesses also struggle with technology adoption due to skill limitations. By integrating technology into training and skilling initiatives, significant improvements in efficiency and effectiveness can be achieved, along with opportunities for upskilling and reskilling the existing workforce. These efforts can greatly impact the competitiveness of Bangladesh's economy and contribute to long-term development goals.
Increased focus on green and sustainable skills The global market is shifting towards durable, high-quality, and sustainable goods, which has implications for Bangladesh's export-oriented industries. While Bangladesh is still in the early stages of adopting green technologies and environmental responsibility in business, there is a growing momentum driven by global consumer awareness. Bangladesh leads in the number of LEED certified factories worldwide, and smart factories equipped with IoT systems are gaining popularity for improved efficiency and resource management. The government has demonstrated a strong commitment to sustainability through policies promoting renewable energy and carbon emissions reduction. However, industries face challenges due to a lack of skilled workforce knowledgeable in green technologies and sustainable business practices. 
To ensure effective implementation, it is important to establish a clear coordination mechanism and promote ownership and accountability through incentives. Additionally, the experience of the SEIP program highlights the necessity of a strong monitoring and evaluation framework…
Establishing a clear coordination mechanism The implementation of SEIP has demonstrated that coordination challenges among various stakeholders, such as government agencies, private training providers, and employers, can hinder the program's outcomes. To ensure effective implementation, it is important to establish a clear coordination mechanism and promote ownership and accountability through incentives. Additionally, the experience of the SEIP program highlights the necessity of a strong monitoring and evaluation framework which may enable to track trainees' progress and make proper assessment of the program's effectiveness.